Is Grammarly Premium service worth the money ($12 per month)? In spite of Despite being fluent in English, I often edit my articles in order to to improve them (that was Grammarly in action already! 🙂 ). I was curious to see if Grammarly could help me save some time and decided to try the Premium. I'll also explain how to create an account, install, and configure the wretched AI-powered demon.
This is no ordinary review… 🙂
Status: Cancelled subscription renewal
From July 2022 – July 2023

I have cancelled my service renewal and switched to ProWritingAid Premium software.
Table Of Contents (T.O.C.):

1. Introduction
My English is quite good. I've been actively learning it for over a decade (since early childhood), and I've been practising it ever since (on my websites and my BikeGremlin YouTube channel, among other things).
Nonetheless, I've been facing these two problems:
Keys sometimes get stucccck, so mistakes happen.
Grammarly's free version catches these things.
My sentences sometimes sound a bit awkward, even if they're grammatically correct.
Grammarly Premium deals with that.
Let's discuss how this works and is it worth the price, starting with the free service:

2. Creating an account and installing
Brilliantly simple. Go to www.grammarly.com and create an account (simpler than making a Gmail account). Hell, you can even register using an existing Gmail account.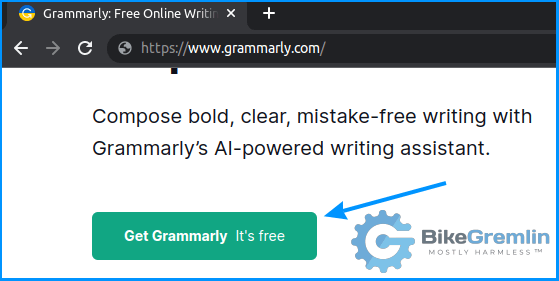 You can also install the Chrome or Firefox plugin if you like – and you're ready to go! 🙂
All the options and settings are easy and intuitive if you know at least a few words of English.

3. Grammarly Free service
Briefly:
It catches any spelling mistakes (ddouble letters, missng letters, double spaces, and the incorrectly spelt wurds).
It also catches the incorrect full-stop and comma use, though it sometimes makes mistakes when it comes to that, especially with commas.
Grammarly provides great browser plugins (Chrome plugin, Firefox plugin). This is super-convenient for working with WordPress. 🙂
When you log into your account, you can add words to your "custom" dictionary so you don't get any warnings when using them: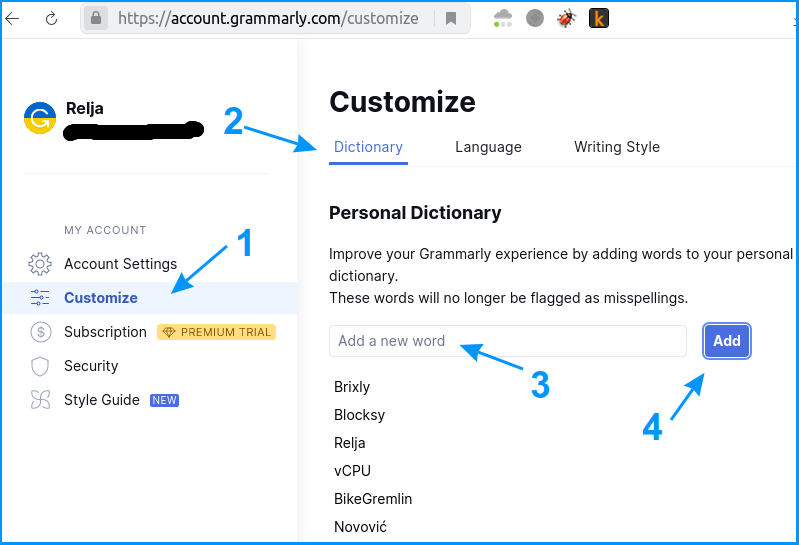 Once during an article check-up, it offers an entirely rewritten sentence version to make it sound clearer. This service is provided non-stop with the Premium version. That's some great marketing, and that's what got me to try the Premium:

4. Grammarly Premium
The premium service gives you all that comes with the free service, plus some great extras:
You can define your writing style (formal, casual etc.), your target audience (experts, novices etc.), and the intent of your writing (to inform, convince, tell a story etc.).
Based on that, Grammarly suggests the most suitable synonyms or even rephrases your entire sentences to match.
In chapter 5, I'll give you my opinion (and the opinion of my favourite editor, Nathan Bennett, in chapter 6). But before that, see how it works and what you think about it. Let's start with the desired writing style configuration: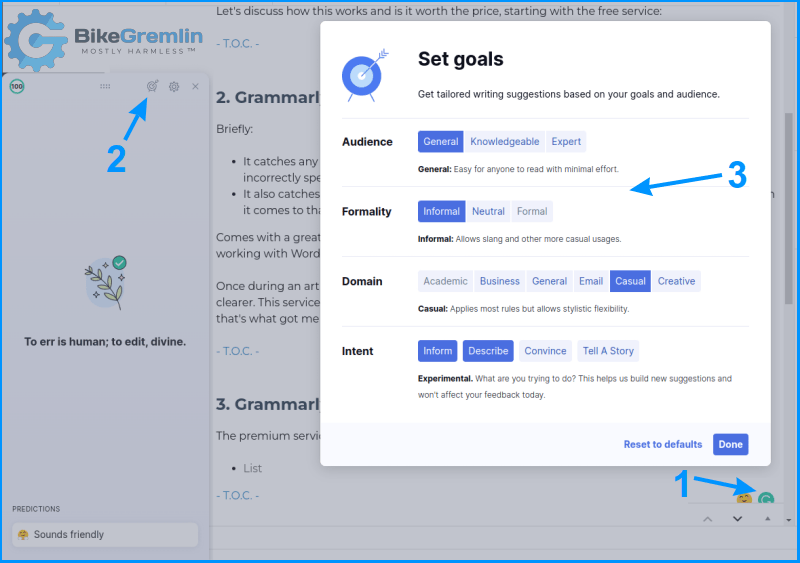 The picture shows my configuring Grammarly using the Chrome browser plugin while writing this article in WordPress. Now let's see how it fares: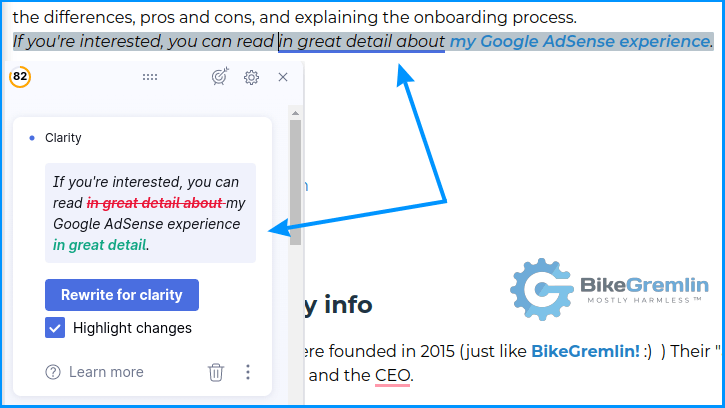 You just click the button ("Rewrite for clarity" or whichever other suggestion is made), and Grammarly edits the text for you! 🙂
A note for WordPress users:
When you click on the button instead of manually rewriting, text hyperlinks get removed sometimes. The whole paragraph is affected from time to time. Yes, it's a bug.
I finally decided to go with this:
"If interested, you can read about my Google AdSense experience."
Nonetheless, the suggestion made me think about improving the sentence, which was helpful. Now see this: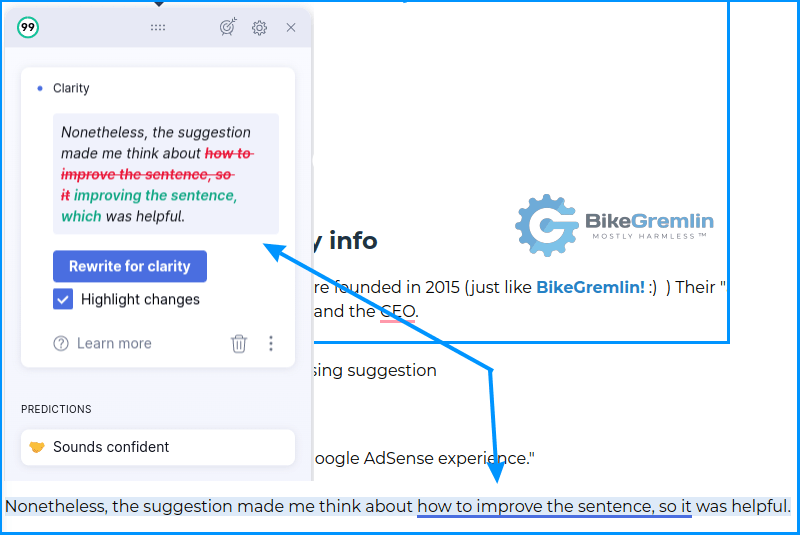 I'll list some more examples, without any screenshots:
Original: "These things are easily caught by Grammarly's free version."
Suggested: "Grammarly's free version easily catches these things."
Original: "Dismissing a Grammarly's suggestion."
Suggested: "Dismissing Grammarly's suggestion."
(I think this is a wrong suggestion)
Original: "This isn't a real review."
Suggested: "This isn't an honest review."
(Wrong again – but it's a robot, it doesn't understand what I mean)
Original: "I started using MDDHosting in June 2022, and I'm hosting websites with this provider at the moment."
Suggested: "I started using MDDHosting in June 2022, and I'm currently hosting websites with this provider."
Original: "In other words, it's still early to draw any conclusions."
Suggested: "In other words, it's still early to draw conclusions."
Original: "That's how I decided to give MDDHosting a try."
Suggested: "That's why I decided to try MDDHosting."
Original: "Maybe I won't have to migrate sites often."
Suggested: "I might not have to migrate sites often."
Original: "I was delighted with the way they handled that great downtime problem, which occurred due to their own mistake."
Suggested: "I was delighted with how they handled that major downtime problem due to their own mistake."
(Hit and miss – the "which occurred" part should remain, in my opinion)
Original: "At the moment, this is not working…"
Suggestion: "Currently, this is not working…"
Consistency matters: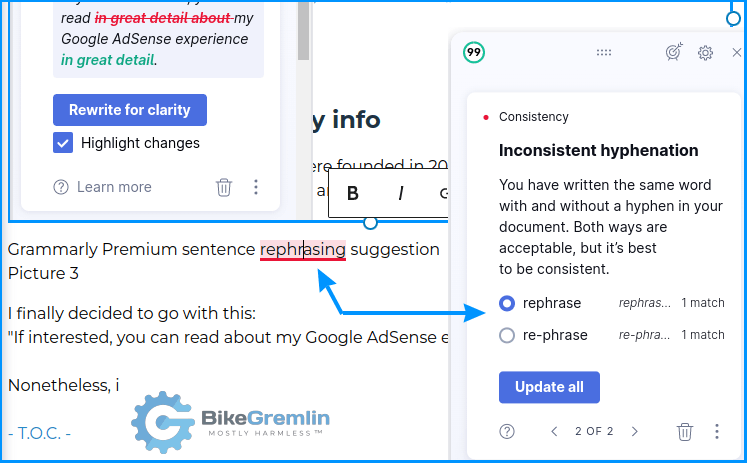 Variety and using synonyms also helps.
Grammarly ensures you don't repeat the same words, suggesting synonyms. In this particular case, I've disregarded the suggestion because I wanted the list to be consistent, but you get the idea:
What if you wish to dismiss a suggestion?
Either because you think it's wrong or 'cause you've made a deliberate mistake. That's easy: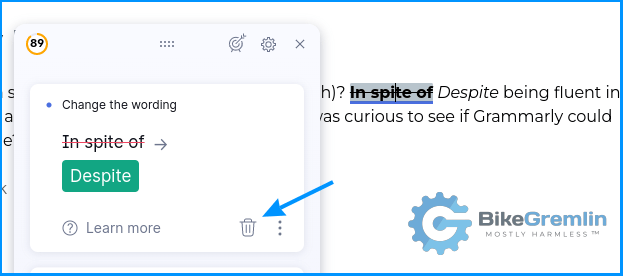 Finally, if you don't make any mistakes, you might see a glimpse of Grammarly's sense of humour: 🙂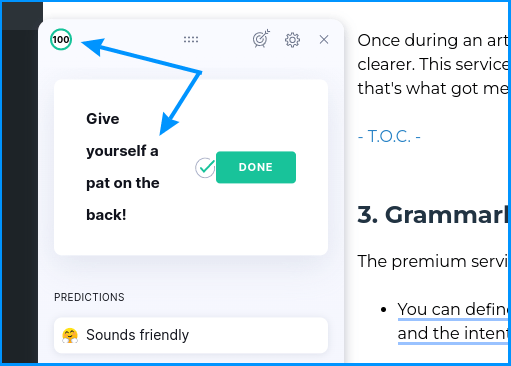 5. Conclusion – is Grammarly Premium worth it?
To me, yes – based on the experience so far. Despite all the bugs noted in chapter 7, I still haven't found a better alternative. Let me explain:
Grammarly doesn't handle long, complex sentences very well. Especially if you list terms – "and" with or without a preceding comma is often hit-and-miss. However:
If your English is good, you'll realize when to disregard a suggestion.
If your English is bad, you should use short, clear sentences anyway.
Grammarly helps me make articles better and easier to read. It also speeds up my workflow – I don't have to go back and forth with an editor, consult about recommended edits, wait for a reply etc. It also saves my editor a lot of time.
Even in a best-case scenario, when Nathan does the editing, so I get a "publish-worthy" article on the first go – Grammarly Premium makes things simpler and faster.
I always keep editor's notes and corrections. Rereading them from time to time helps me improve my English. Grammarly Premium offers decent edits at a click of a button, any time, even for the old, long-ago published articles. This makes it a good learning tool for any fluent non-native English speakers.
And here's why I think that Grammarly can't replace a good editor:

I could be wrong; English is not my native. 🙂 But for any sponsored (paid) articles, I still ask Nathan to do his magic. 🙂
Here's a constructive Grammarly discussion on the LowEndSpirit forum. 🙂
Update, July 2023:
At the time of writing, after some months of problems and bugs, Grammarly is back to being a good, useful tool (for more details, read the rest of this article). However, I did test a tool called ProWritingAid (their website link). I'll write a separate article about that tool, after I've used the paid version for some time. Briefly put: it has some pros and some cons, but until I try the paid version, I can't know if it's better or worse than Grammarly. One of the things I like about that tool is that it's sold with a lifetime offer ($400 one-time payment, and I expect and hope to get a 50% discount on Black Friday, as the company selling it has done over the past years).
A newer update: I found a 40% discount for the ProWritingAid lifetime license, so I could test ProWritingAid free and Premium versions. For now, I'm going with the ProWritingAid.

6. My editor's thoughts and experience
I consulted with my favourite editor, Nathan Bennett (link to his Linkedin page), about this Grammarly Premium experience. He was kind enough to share his thoughts, based on his experience. Here's what Nathan had to say about Grammarly (Premium):
When I used the free version of Grammarly for content writing, it pointed out some possible mistakes, but I did not really trust it to tell me about style. As a native speaker of English, I don't trust computers to make significant improvements in my writing. As a finicky writer, I have to exercise all my willpower even to listen to human editors.
I've seen (from people who would know!) that AI-driven tools don't reliably generate content, but an advanced spelling and grammar check (i.e. a paid version of Grammarly) would really help anyone who already organizes their thoughts clearly and can communicate effectively. The price for the paid version of Grammarly could be well worth it for an independent operator doing their own content writing. They might not have the budget to have a human editor go over all their content, but a tool like Grammarly could help reduce the cognitive load required for the editing process and allow the writer to spend more time producing more content, less time in editing.

7. Bugs and downsides
A brief list of the problems I'm facing with Grammarly.

7.1. You can't save your default writing style settings
Grammarly's browser plugins don't let you save the writing style settings shown in picture 3: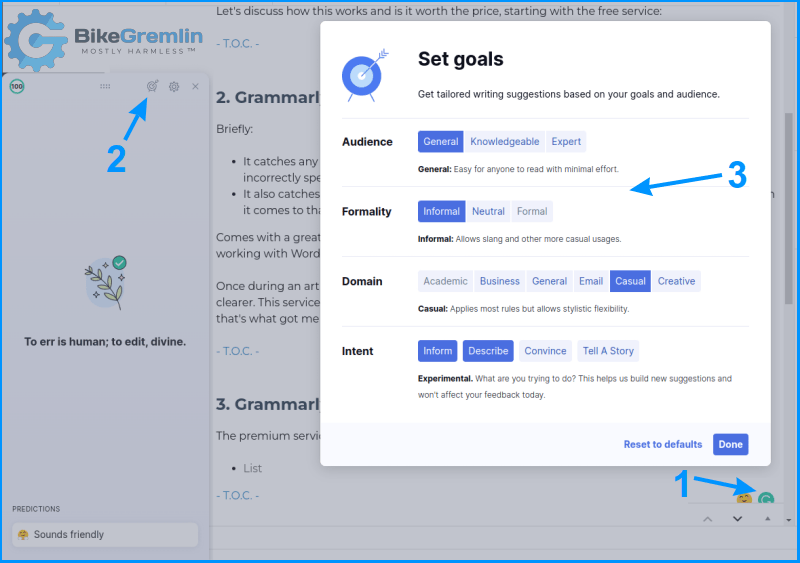 You have to set them over and over again for every browser tab, every time you start writing.
I'm using the browser plugins as a logged-in user, but they always revert to the(ir) default setting, not the one I had chosen.

7.2. The sticky suggestion tab crashes
The suggestions tab, shown in picture 4, often disappears. This happens most often when I try to drag it to a different position. I'm using Linux Mint and Google Chrome browser. Tried with two different computers – so I don't think it's down to any mouse, keyboard or computer problems.
When the sticky tab crashes, you have to turn off Grammarly suggestions, turn it back on, and then re-set your style settings (as explained in chapter 7.1.). This also causes all the disregarded (deleted) suggestions to re-appear because, as far as Grammarly is concerned, you've just started. 🙂
Update:
The sticky bar crashes a lot less often, and when it does, the settings and suggestions stay saved.

7.3. Old suggestions pile up
I'm writing a very long article. When I continue working on it, on the following day, it re-checks everything and gives me over 20 suggestions, most of which I had deleted on the previous day because they weren't relevant.
In order to clear the list, I have to delete each one with a separate click. There's no option to remove all the existing suggestions with one click.

7.4. WordPress backend editor bugs
While working (editing or writing new) articles in the WordPress backend, on some occasions, Grammarly just won't start or it starts checking grammar for a field that isn't the main one, containing the article text.
This is really frustrating and sort of beats the point of paying for the subscription. If I wanted to mess with copy/pasting text to a separate window, I could just use the free Hemingway (link to the website).
Having said all this, the problem is more frustrating, than it is show-stopping. A few clicks and some patience usually does it. And it does work more often than not.
Update:
Grammarly has managed to become even worse when working in WordPress backend. The worst scenario is when I open a half-finished longer article. If this doesn't get fixed, I have no use of renewing my subscription (have already cancelled the auto-renewal).
Update 2 – July, 2023:
Thinks have improved. There still are no options that were available a year ago, but there are also no problems or "slowdowns" when working. Now, Grammarly is (again) a good tool that helps a lot (even though it can not replace good language skills or a good editor).

8. NEW – GrammarlyGO AI tool
Update, April 2022:
The new GrammarlyGO AI tool is supposed to use artificial intelligence to help with writing. To test it, I answered a reader's question on my cycling website. The explanation (and the topic) is relatively complex. So, I decided to let GrammarlyGO have a go (pun intended 🙂 ) to see if it improves the clarity of my answer. Here, I will copy/paste the quesion, my original answer, and the result of GrammarlyGO's edit of my original answer, so you can judge for yourself if GrammarlyGO did a good job:
The question
This is an edit to the post I made a few minutes ago with a different logic. I think it would be best if you only "publish" this one: Are 1) seat stays assymmetric in shape and 2) do the drive side chainstay and the drive side seatstay sit more outboard (from the bike center / bb Center / wheel center) than their non-drive side counterparts? Assumption for my conclusion: the wheel sits in the center of the bottom braket and is perpendicular to the bottom bracket. My conclusion is that both (1) and (2) must bet true because 1) the center of the rear wheel is closer to the non drive side dropout than to the drive side dropout (see pictures above the headline "2 Visual Test" on https://www.parktool.com/en-int/blog/repair-help/wheel-dishing-centering) and 2) the wheel is / should be centered between the seat stays near the seat tube (see first picture on the same parktool URL above below the headline "2 Visual Test"). Is there a flaw in my thinking?
Context: I'm designing a custom bike for myself with the rear rack welded to the frame. Ideally I would want to have the same distance between the tire and the inner edges of the rack on the drive and non drive side….
My original answer
Hi Nic,
Most frames have symmetrical dropouts (equal distance from both the longitudinal and transverse frame axes). With such frames, the rear wheel is dished so that the rim's centre is right between the hub's "locknuts" (quotation marks are because many modern hubs don't have classic locknuts, just the hub ends that face the inside of the frame's dropouts). See picture 22 in my Bicycle wheel building basics article.
There are however "offset frames," where the drive side dropout is a bit further to the right (i.e. placed more outwards from the frame's longitudinal axis compared to the non-drive side dropout). That is done to help make the rear wheel stronger, as it allows spokes coming from the drive-side flange to not have such a steep angle, thus making the drive and non-drive side spoke tension more similar (less drastic difference in tension), plus it provides a better bracing angle for the drive side spokes.
For the bike to steer nicely, the rims (and the tyres) need to be in line with the bike's longitudinal axis. Hence, if your goal is to have the same distance of the tyre from both dropouts, it would make sense to make the dropouts symmetrical (i.e. to not make an offset frame).
Relja
GrammarlyGO's rewriting of my answer
Dear Nic,
I hope this message finds you well. I wanted to bring to your attention an interesting fact about bike frames. Most bike frames have symmetrical dropouts, meaning that the longitudinal and transverse frame axes are equidistant from the rear wheel. In this case, the rear wheel is dished so that the rim's center is right between the hub's "locknuts." You can find a visual representation of this in picture 22 of my article on Bicycle Wheel Building Basics.
However, there are also "offset frames" where the drive side dropout is a bit further to the right, placed more outward from the frame's longitudinal axis compared to the non-drive side dropout. This design is meant to make the rear wheel stronger. It allows spokes coming from the drive-side flange to not have such a steep angle, making the drive and non-drive side spoke tension more similar and providing a better bracing angle for the drive side spokes.
I hope you find this information useful. Let me know if you have any questions or if there's anything else I can assist you with.
Best regards, [Your Name]