Good hosting is the foundation of every website – without it, the website will not be stable and will be easily hacked.
Table Of Contents (T.O.C.):

1. Hosting providers
A hosting provider is a company (or an individual) that offers web hosting services. In the hosting services market, competition is very strong. As opposed to the capitalist "free market" mantra that strong competition brings lower prices and better products, according to my subjective estimation, around 90% of hosting providers are offering poor-quality hosting. How so?
The hosting market is specific in several ways: product is not visible, hosting quality is hard to judge quickly, and the only contact with the provider is a virtual one, over the Internet.
Thanks to this, any 18-year-old "kid", or a mature trickster can rent a server for cheap, set up a front page and become a "hosting provider" overnight. Offering (too)low prices is very tempting to novice users, or hobbyists/bloggers.
When you Google and visit hosting provider websites, the "shopping window" shows: "Lightning-fast hosting, SSD storage, best uptime, stability, security, heroic technical support…" (for more details see the post about hosting offer catches).
Everyone writes this, all the frontpages look great, but some actually do offer it, while others offer… less good service so to speak. I for one did not know any better until a few years ago, I admit – and still have a lot to learn.
Since clients can hardly spot a difference, low price is what attracts them. While people know that 5-dollar shoes can hardly be good, that is usually obvious once they look at the shoes. With hosting it's different: they all look nice on the front page, except for the suspiciously low price, but people often believe what they would like to be true. Because of this, even the good hosting providers need to keep their prices low, on the edge of profitability. This market is sort of a "race to the bottom".
The price differences I'm talking about are between 2 and 5 dollars per month, for some basic shared hosting for example. 5 dollars is more than twice the price, but that's 3 dollars more for a (really) stable, fast, secure hosting with good technical support. With "more powerful" hosting packages, the price differences are larger in amounts, but lower in percentages! In a range of 40, instead of 25 dollars for a good managed VPS hosting (VPS is about control and separation, not power – post about VPS hosting).

Another catch is offering a cheap price when signing up, then tripling it for renewal – since people don't like migrating websites. Or offering better performance until the money-back period has passed (30 days or so).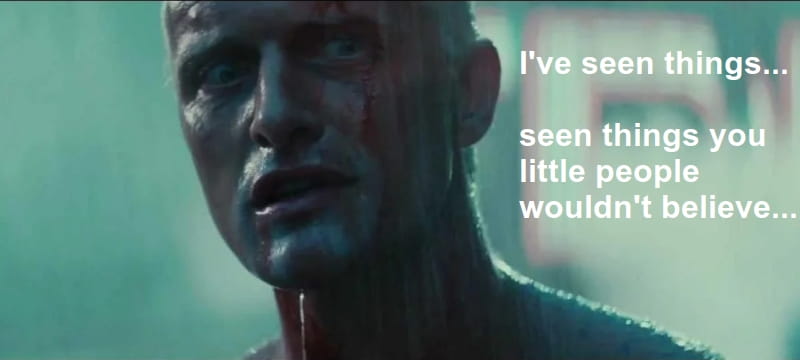 1.1. EIG (Endurance International Group) hosts
They deserve a separate sub-chapter. Not for good reasons, unfortunately. Who is EIG? It is a large multinational company that, for the past ten years, has done the following (this is my personal opinion and estimation, based on the information and experience I have):
Buying (smaller) hosting companies.
Cutting costs wherever possible, at the expense of the quality of service.
Offering dirt-cheap prices to destroy any competition.
Paying a lot of money to whoever writes fondly of them and offers their hosting (affiliate marketing).
Hiding the information of which companies are in their ownership.
Which hosting companies are owned by EIG? At the time of writing this article, based on my information:
BlueHost, HostGator, JustHost, iPage, Sitebuilder, A Small Orange, BigRock, Domain.com, eHost (shut down), FatCow, PowWeb, IX Web Hosting, MyDomain, NetFirms, Website Builder, Xeran… and dozens of smaller companies.
I think all these hosts should be avoided like plague, in spite of "thousands of happy customer reviews" – let them enjoy. Generally, I am reluctant to criticize a company. I know how hard it is to start and run a business. Would rather remain silent about the bad and just praise the good ones. At some point in working, everyone has made mistakes and had problems. EIG is an exception to this because I think what they are doing is bad and harmful to the industry and is far from "an honest mistake". They deserve to be called out.
Update 2021:
In November 2020, Clearlake Capital Group acquired EIG for around $3 billion, creating the "Endurance Web Presence" division, including subsidiaries Domain.com, BlueHost, and HostGator.
In February 2021 they created a joint venture with Siris Capital Group (owners of Web.com) to form "Newfold Digital."
In August 2021, the new corporate behemoth, Newfold Digital, buys out Yoast SEO, the most famous WordPress SEO plugin.
How can a novice then choose good hosting? By reading reviews? Perfectly logical and sensible idea. However, there too is a catch. As I'm explaining in the next chapter:

2. Hosting reviews on the Internet
If you Google "good web hosting", "best web hosting", "top 10 hosting providers", you will get several pages of paid reviews (according to my opinion). Goes about like this:
People have a website or a blog. Like this one.
BlueHost (for example) pays them 60+$ for each new customer signing from their website/blog.
The people praise and recommend BlueHost, make a top 10 hosts list with BlueHost in the top 3 etc.
Here is a practical example – an offer I got on my email (typcial, not very unusual):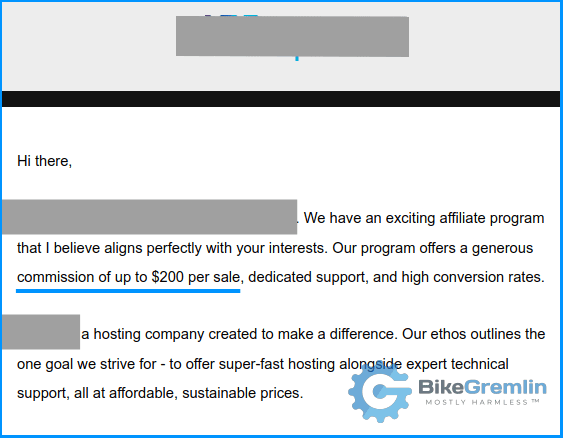 Also note that Reddit Communities ("Subreddits") /r/webhosting and /r/WordPress have shady moderation policies when it comes to web hosting recommendations. See this BikeGremlin forum post for more details:
https://www.bikegremlin.net/threads/are-reddit-r-wordpress-and-r-webhosting-shady-and-misleading.39/
Of course, not all people are like this. The vast majority simply have no idea. Such as: most reviews are based on uptime and speed. Often not a word about security. For example, I experienced a hosting provider not enabling a secure HTTPS connection to the account control panel, only "open" HTTP." This means that anyone interested enough can relatively easily see which username and password I'm using to connect to the control panel. This leaves an open door for changing website files, deleting them, or installing viruses. I couldn't find any mention of this on any website that does "hosting reviews" up to the time of writing this article.
Other important information about a hosting company (that often gets omitted) are:
Who is the owner of the hosting company (in which country, under which jurisdiction)?
Who owns the servers that the hosting company uses (to host your website) and in which country are the servers located?
These information, especially the server ownership, is what hosting companies often don't disclose (while many rent other company servers – which is OK in and of itself). In case of any problems, this information can be important. Problems like lawsuits against your company (alleged copyright infringement for example), or any lawsuit you could have against the hosting company, in case of some serious problems, breach of contract etc.
Add to all that the fact that companies, owners, policies and practices change over time. An objective review that is a year old might no longer reflect the real state of things (which is why I've included the time period info in my web-hosting reviews). Likewise, it is impossible to always keep testing the service quality of many different hosting providers.
That is why the only way to see if a host is good is to try it, first-hand. See if it works for you. With regular backups and being prepared to move on if the service worsens, or is bad from the start.
Of course, choosing which companies to first try should not be random. This is where objective, expert reviews (and the experience of people that you know) have some merit (in spite of the above-noted limitations).

3. Help with choosing and recommendations
One of the reasons for writing this text was the time and effort it took to explain to a colleague why they should pay a few dollars more for good hosting, instead of going with a BlueHost package. "Can it really be that much worse? I've read the reviews. What could go wrong?" And it's not been just one person with a similar dilemma.
Now I can just send a link to this article and save myself the time (and nerves).
If you give me enough information about your website (what it is made with, how many daily and monthly visitors, from which countries do most visitors come from, how much disk space it takes etc.), I can recommend you a hosting provider for which I think is good – nothing more, nothing less.
For more information on this service, see the consulting page.
Do I offer web hosting services?
Only included with the website maintenance service.

4. List of hosting providers I'd recommend
It would be perfect now to be able to say: "get this and that hosting". If it were that simple, I wouldn't have written a post this long. I'll try to help as much as I can, but neither am I all-knowing, nor do I spend each day testing and measuring the service quality of each hosting provider (and it changes in time).
Some of the links offered here are affiliate. The principle is simple: if the company I wish to recommend offers an affiliate program (commission for each sale made through my website) – great. If not – again great. The commission amount (or even its existence) does not affect my recommendations (take my word for it – or don't and do Your own research).
There are many good hosting providers (even more bad ones). The list below is made with the following criteria (with a reminder that I can't check service quality every day to confirm it is still high):
I've used the service myself and been happy with it, or, at least, had enough positive first-hand feedback from people I trust and who are better experts than I am.
The quality of service and security has been thoroughly tested.
List of hosting providers where I'd place both my own, and client websites, without any fear (affiliate links):
I'm not claiming that these are the best, or the only good hosting providers, just that I came to a conclusion that they (are/have/would) work for me (based on my experience, research, asking more experienced experts for advice, hearing first-hand experiences etc.) – depending on which type of hosting I'm looking for. There are a few other hosting providers I've been happy with and you can read about them in my hosting reviews. Note that I am human, with limited time and this is the best I can do to help, without the risk of leading anyone on the wrong path.
Specifics of each hosting type (shared, reseller, VPS, "Cloud") are explained in the post: Types of web hosting.
A separate post gives a more detailed explanation for my recommendations and discusses how to find a good hosting provider.