Instructions on how to do a domain transfer from one domain registrar company to another. The exact look of each menu may differ, depending on the company, but the procedure and the principle are the same. A separate post explains what a domain is and how it is registered.
Note that a .uk domain transfer procedure differs from the one shown here. For that, read Porkbun's knowledge base article on how to transfer a .uk domain.
For all the other domains, here's a step-by-step tutorial:
Log into the old domain registrar user control panel and choose the "Manage Domain" option: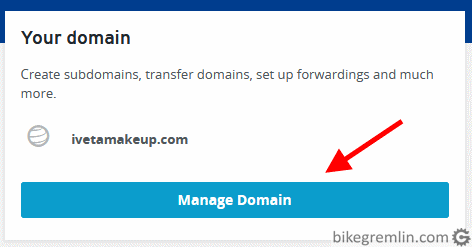 Click on "Renewals & Transfer" – or find a way to navigate to the option for disabling private registration (Whois privacy protection) if it was enabled (which is recommended). Picture 2:
Confirm privacy disabling and return to the transfer options ("Renewal & Transfer", or similar). Now you should be able to turn off transfer protection and enable domain transfer. Picture 3: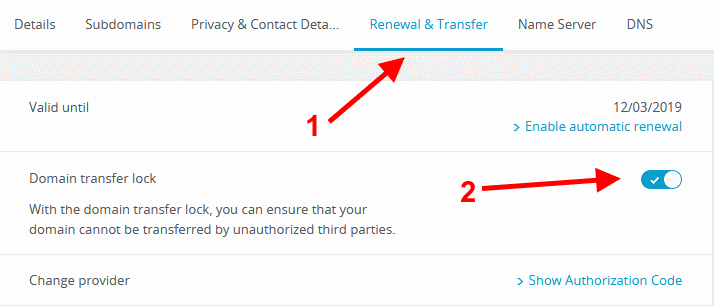 It usually takes a few minutes. After a while, you will see that domain transfer has been enabled. Click on an option to show the authorization code:
Now log into to the new domain registrar control panel and choose domain transfer option:
Enter the name of the domain you wish to transfer and click "Transfer":

Enter the authorization code that You wrote down (picture 5) and confirm the transfer:
Another click to finalize the "purchase":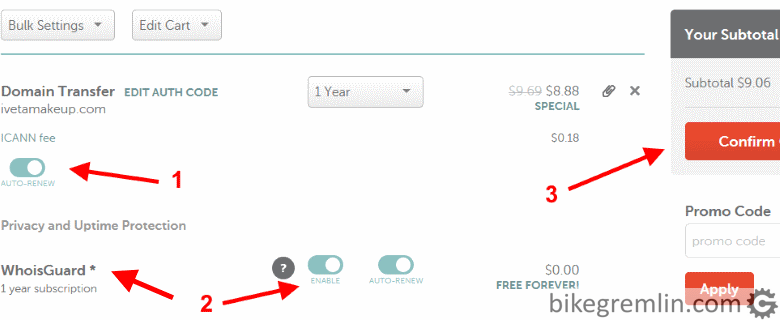 On the new registrar's domain control panel see the list of your domain(s) and see the status. It will let you know when the transfer is completed:

Old domain registrar will ask You to confirm the transfer. Mine sent an e-mail notification:

Click in picture 11 took me to the old registrar's control panel where, after accepting the transfer ("Accept"), the following note is displayed:

Now, on new registrar's control panel (picture 10), You can click "Refresh status". Expect to wait for several minutes, up to a few hours, until the transfer is completed. After a while, the transferred domain will appear in your domain list, where you can mange it, renew it etc:
That's it, domain has been transferred! 🙂
Precaution: choose management options of the transferred domain ("Manage" in picture 13). Check if privacy protection has been enabled (usually says "Private registration", or "Whois protection"):

On transfer options (just like with old registrar), check if transfer lock is enabled, to protect your domain from unwanted transfer:
Finally, check the domain expiry date. For domains You wish to keep, make sure that registration expiration is at least one year (or register them for several years in advance). That way, You won't risk that in case of some credit card verification problem your domain renewal becomes problematic (don't wait until the final month to renew).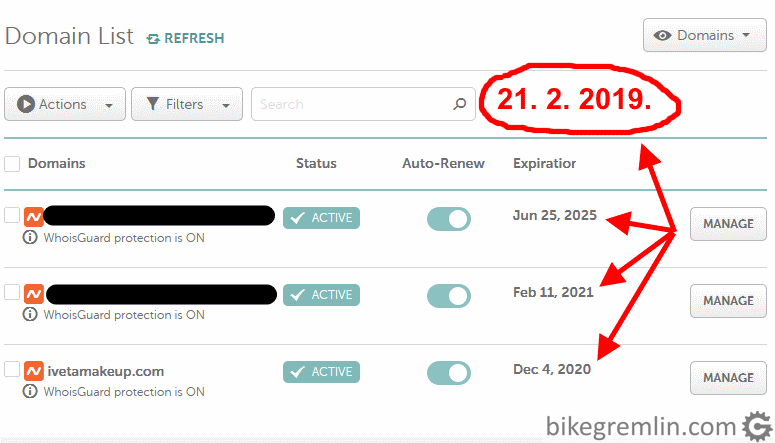 For domain registration, I use and recommend Porkbun (affiliate link).
– My Porkbun domain registrar review.