In this post I'll share my experience (and write a sort of a review) with the Porkbun domain registrar (affiliate link). See the separate post for my Porkbun WordPress hosting review.
Update May 2022: at this moment, most of my domains are registered with Porkbun – there's no more honest recommendation than this. I note any problems in this article, but so far I'm very happy. 🙂
Status: Active
From September, 2019 – ongoing

I'm actively using (and paying for) this service. There's no more honest recommendation than that.
Contents:

1. Introduction – how I came to Porkbun
Relatively soon after moving all of my domains from IONOS to Namecheap, domain renewal prices started going up.
My experience (review) of the Namecheap domain registrar, and of the IONOS (formerly 1and1) registrar.
I was looking for a cheaper, yet reliable alternative. On some forums and other sites, I saw praise for Porkbun, so I decided to give them a chance. They chose a bit strange of a name for their brand and domain: "porkbun.com". I like to joke that Porkbun leaves the best domain names to their customers, taking the worst one for itself. 🙂
…Yes, this comes from a guy who chose BikeGremlin.com! 🙂

2. Domain registration and renewal
Domain registration, renewal, as well as domain transfer from another registrar, all go smoothly. The user interface is clear and straightforward. The domain registration renewal price is clearly listed upfront.
Because of problematic Serbian banks, I like being able to deposit some funds upfront in my user account. Here's what that looks like with Namecheap:

With Porkbun, they only give you an account balance as a way of taking payment by cryptocurrency. Otherwise, they just take straight payment for specific registration and renewal services. When I asked Porkbun about it, they replied: "You can pay ahead of time using cryptocurrency, but we charge a 10% fee." Neither very practical nor convenient for advance payment, in my opinion.
Having said that, I make sure to pay to renew domain registrations for more than one year at a time, so that takes care of my concerns. Even with Serbian banks, one year is enough to sort out any payment problems. I definitely recommend keeping any important domains registered for at least two years in advance – for several reasons I won't be discussing in this article.
Just to be clear, as it was implied in the paragraph above, they accept Bitcoin payments. For some people, this matters.
They do not charge extra for WHOIS privacy – cool!

3. Porkbun technical support and user interface
Their technical support is good in my experience – they get back to you quickly and explain everything.
The user interface is OK, though Namecheap's is better, with a (still) better knowledge base. As a personal reminder: for configuring your custom nameservers, here the option used is "Glue records". After the last user interface change, this option was made easier to find. Before, I had to ask technical support – I couldn't figure it out within the menu, nor find the answer in the knowledge base.
Update, May 2021:
Since I first wrote this article, Porkbun have worked hard on polishing the user interface and improving their knowledge base (Porkbun knowledgebase). The above-mentioned "Glue records" process is now thoroughly explained: tutorial for configuring custom nameservers (glue records).
For example, I've used Porkbun's knowledge base to successfully transfer a .uk domain from Namecheap to Porkbun (.uk domain transfers are specific, but the linked knowledge base article explains it all and it worked like a charm).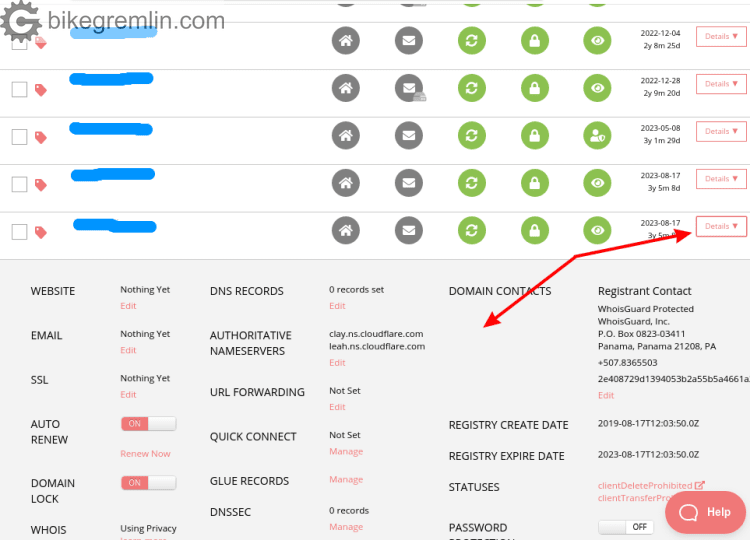 A minor objection goes to 2FA login protection (what is 2FA – multifactor authentication). After you have entered your username and password correctly, you will get to enter 2FA code. Then, when you enter the code correctly, you are logged in. This is all normal and the way it should be. However, you might also receive an email notifying you of a failed 2FA login attempt, even if you get it right from the first attempt. This is a minor flaw, no reason to panic (unless you get such notification when you don't try to log in).


The problem can be solved by disabling your password manager, like LastPass – which is generally a good security idea for a domain registrar.
Update September 28, 2020: this issue has been fixed.
I will also refer here to a thread on the LowEndSpirit forum regarding a DNS issue. This kind of actually giving a damn about their partners (customers) is what makes me think even more highly of the domain registrar with the funny name.

4. Porkbun prices and business policy
Personal note: they don't accept Payoneer card payments. 🙁
The main reason for considering changing from the Namecheap domain registrar is their domain registration renewal prices. Porkbun's prices are among the cheapest: for domain registration, renewal, as well as domain transfer from another registrar.
All the prices, including the renewal price, are clearly displayed.

I must note some objections I heard. They boil down to abuse policy – that is, when someone complains about your domain hosting inappropriate content (or viruses). Allegedly they quickly and (too) easily block domain. I haven't experienced any of these problems. Also, if this LowEndTalk discussion is to be trusted (a Porkbun representative had also taken part in it), this policy has been "fixed" – see this link about the problem with Porkbun.
Update, November 2022:
There seems to be another problem with Porkbun's abuse-handling policy. Here's a link to the Porkbun abuse policy discussion on LowEndTalk forum. You will need to create an account to read it (complain to the forum admins for that, it's not my call 🙂 ).
TL/DR: A customer had their WordPress hacked and used for phishing for about one hour before the hack was caught and cleaned. Porkbun has suspended their whole domain over the phishing complaint, reacting after the hack had already been cleaned, and leaving the whole domain offline for half a day.
As a Porkbun representative has participated in the discussion and (apparently) passed on the feedback, I'll wait to see if Porkbun changes its abuse handling policy or start looking for another domain registrar.
Update 2, November 2022:
Based on the community feedback, Porkbun has changed its abuse-handling policy and made it more reasonable. Porkbun representative feedback (LET forum link – you must be a member to read it).
I said as much in my first comment in that topic (on page 7) – Porkbun does listen to customer feedback and I expected no less. So I'm happy to say that Porkbun is still my favourite domain registrar. 🙂

5. Conclusion and my personal opinion
Porkbun is a promising domain registrar. For absolute beginners, because of a better user interface, knowledge base and lots of online tutorials, I might recommend Namecheap (my review). Although Porkbun seems to be working hard on improving both the user interface and their knowledge base.
If Porkbun remains solid and among the cheaper in pricing, I will probably transfer most of my domains with them. I have already transferred many. Update 9th of September 2020: practically all of my domains are with Porkbun now – and I would recommend them.
Update, May 2021:
It's been two years since I've moved my first domain to Porkbun (moved in 2019). I had zero problems, and it all went smoothly: domain registrations, renewals, and transfers. Tech. support was fast and competent in answering any questions and providing help. The user interface and the knowledge base have also been greatly improved over the years.
Right now, only my .rs (local, Serbian) domains are registered with a local domain registrar – foreign registrars still aren't allowed to support it. All of my other domains are registered with Porkbun.
Briefly: I came for the low prices and to check it out, and I stayed for the high-quality service (at still very affordable prices).
Update May 2022: at this moment, most of my domains are registered with Porkbun – there's no more honest recommendation than this. I note any problems in this article, but so far I'm very happy. 🙂
If you choose this domain registrar, you can use my affiliate link to register a domain with Porkbun – supporting this website without it costing you anything extra.