This isn't a real review. These are my online notes about MDDHosting Elastic Reseller hosting (affiliate link), noting all the pros, cons and peculiarities. Writing this for my own reminder/reference, but if it helps anyone else, even better! 🙂
Update: I've switched to MDDHosting's fastest, "Plaid," platform, and you can read my MDDHosting Plaid Elastic Reseller hosting review.
Status: Active
From May, 2019 – to July, 2019,
and from June, 2022 – ongoing

I'm currently hosting websites (including this site) with this provider. There's no more honest recommendation than that – though I've moved to the more expensive MDDHosting Plaid platform.
Table Of Contents (T.O.C.):

1. Introduction
Events and my thinking process (skip this drivel and go to chapter 2):
I've been very happy with HostMantis reseller hosting for years. However, at the end of June 2022, I got an email from HostMantis saying they are getting "partnered with" (read "sold" but it wasn't 100% clear) another company – starting with July (so, less than a 10-day notice).
Now, I have no idea whether the new hosting will be better or worse – but I'm not an optimist, based on years of experience as a hosting client).
For these kinds of situations (or worse), I've been testing various alternatives – so I have a tried and tested place to move my websites to. Providers whose services I tried most recently were:
Brixly is not bad, but they don't play perfectly well with Cloudflare, and Cloudflare is great.
MyW hosting is OK (I host some of my websites there), but no 24h support, so not perfect for any client websites.
I prefer stable hosting to bad hosting with 24-hour support, but in case of any problems, I want to be able to answer the question "did you choose a 24-hour support provider?" with a "yes, I have."
Veerotech was excellent, but I hadn't used their services for years, so not sure if anything has changed.
I decided to first move all the websites to MyW hosting. Moving a site from one DirectAdmin to another DirectAdmin panel account is a breeze – basically boils down to a couple of clicks!
The problem is I haven't tested a 24-hour-support DirectAdmin reseller hosting provider that I'm happy with (Brixly came close). Without 1st hand experience, I rely on the advice of experts I trust – I take (customer) reviews with a bucket of salt (link to my personal blog). That's why I decided to try MDDHosting, even though they don't offer DirectAdmin hosting, only cPanel. With the idea that, even though migrations might be slower and more complicated, with reliable hosting, I might not have to migrate sites often, and I could just concentrate on making website content!
In the meantime, unless MDDHosting starts offering DirectAdmin hosting, I'll test a few more DirectAdmin reseller hosting providers until I find a good, reliable alternative to MDDHosting. For me, having backups and being able to quickly migrate websites in case of any problems is of crucial importance.

2. MDDHosting company
MDDHosting's "About Us" page is a pleasant surprise in today's hosting world. They have clearly disclosed brief company history, owner's name, network and infrastructure info. Briefly put: it's a US company, with decades of experience and servers in Denver, Colorado. More details are on their website, no need to re-write those.
It's worth noting they use StorPool distributed storage (the good Bulgarians! 🙂 ).
If you google, you'll find that MDDHosting had a major service outage in 2018. I was delighted with how they handled that major downtime problem, which occurred due to their own mistake. They publicly admitted the mistake, and explained how they changed procedures in order to prevent it from re-occurring. This made me have even more trust in this company, not less. For more info, see major MDDhosing outage in 2018 on their website, and the topic on WebHostingTalk forum.
It seems to me that these people own their mistakes and know what they're doing – unlike many (most?) other hosting providers.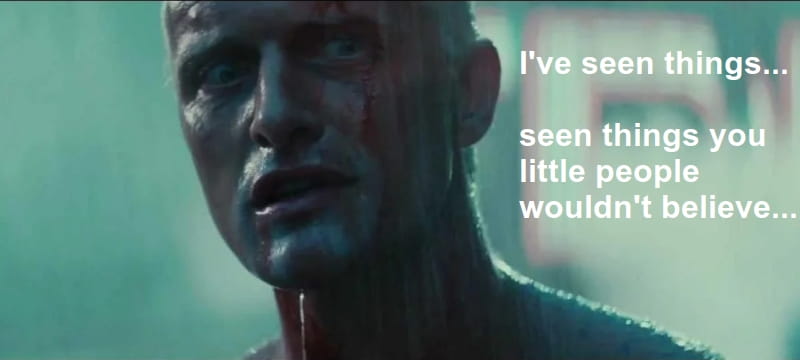 Of course, they also have CloudLinux, LiteSpeed, JetBackup 5 and other shared/reseller hosting bells and whistles.

3. MDDHosting Elastic Reseller hosting
In a separate article, I've explained what reseller hosting is, but what in the world is "Elastic" about such hosting?! 🙂
I've explained the principle in the article about HostMantis reseller hosting resource allocation.
Compared to that, MDDHosting gives a lot more CPU and RAM resources, with less storage and bandwidth. Since CPU is usually the bottleneck for WordPress websites, I consider MDDHosting's offer to be superior.
For a bit more details:
Another difference with MDDHosting's offer is they charge extra if you use more storage, bandwidth or create more sub-accounts than allotted with the hosting package. It is charged on a month-to-month basis, but the pricing is affordable, and the allotted resources per package are reasonable, so I wouldn't expect any problems. While CPU and RAM are given quite generously.
Because of that, this offer is usable if you wish to literally re-sell hosting – unlike HostMantis' reseller hosting, which is suitable only if you are managing all the sites on your reseller account.
This freedom of resource re-distribution is great. My websites are well optimized, but I like being able to allocate more resources to websites if they should need them. This is as good as a VPS, but without any hassle over maintenance and software licenses (VPS vs Shared hosting).
By the way, MDDHosting enables Cloudflare Railgun! For free (i.e. included in the regular price). This is a great tool for faster content delivery to visitors who are on a different continent from the hosting server. The only other provider with whom I had Railgun work properly is VeeroTech. I had already forgotten how good Railgun is. 🙂
Almost forgot an important thing: overselling is allowed (what are overselling and overloading?).

How can I help BikeGremlin to remain independent and objective?

4. Migration to MDDHosting and first impressions
I don't know of an efficient way to manually migrate a website from DirectAdmin to cPanel, not when my existing provider (HostMantis in this case) blocks Softaculous website migration. So I did a more complicated procedure, but with minimum downtime (didn't want to bother tech. support for this, and wanted to confirm I can do it myself):
With the "old" provider:
Website export using the AIO WP Migration tool.
At MDDHosting:
– Created a temporary sub-domain and installed WordPress on it using Softaculous.
– I imported the AIO WP export to that site.
– Cloned that site to the desired "real" domain using Softaculous.
In separate articles, I wrote in more detail about:
Of course, like many other providers, MDDHosting will (help you) migrate your account – here's a link to their reseller account migration policy.
I've configured my own weekly automated remote backups to my "cloud" storage, even though the provider makes their own backups – using the following backup-retention schedule:
Daily backups are kept for 7 days
Weekly backups are kept for 4 weeks
Monthly backups are kept for 3 months
This is an excellent backup retention policy – I've never seen this done by a reseller hosting provider, especially not for 3-months' time. Of course, I keep my own set of backups just in case, as I would always recommend to be done (how often should backups be made?).
I'm using MXroute for emails, so I didn't have to do a thing about emails when migrating websites (the advantages of using a hosted email service). Life is good. 🙂
JetBackup one-click account restoration works like a charm.
The first impression is positive – it all works as it should.

5. MDDHosting peculiarities
Here, I'll note all the stuff that "differs from the usual" – not necessarily bad (or good).

5.1. Configuring PHP memory to over 1 GB
Increasing PHP memory limit beyond 1GB is not done via the control panel, but via a .htaccess file edit (nicely explained in MDDHosting's knowledge base), for example:
php_flag display_errors off
php_flag log_errors on
php_value max_execution_time 3000
php_value memory_limit 2048M
php_value post_max_size 1024M
php_value upload_max_filesize 512M
I'm yet to see a WordPress site that needs more than 1 GB of PHP memory, but should you need it, it's possible.

5.2. Reseller (WHM) level JetBackup
Like the Serbian space program – it doesn't exist. 🙂
Some providers let you use JetBackup to automate all the reseller sub-account backups to your storage. Many don't. MDDHosting doesn't allow that for now.
There are two alternatives I know of, each with its pros and cons:
The free WHMBackupSolutions script (and how to configure it)
Downside: it's no longer maintained (as far as I know), so the first major cPanel (file structure) change will likely render it unusable.
Paid WHMEasyBackup script
Downside: These guys sold me two lifetime licenses (lifetime support, updates and all). Then, they decided to make version 7, and say that the lifetime licenses were only for version 6. 🙂
I went with the first option, and if (when) it stops working, I'll see if something can be arranged with MDDHosting, or move my sites again. 🙁
Of course, you are able (almost said "free" 🙂 ) to go with WHMEasyBackup, it's just my personal choice not to. Not because of the money, but because of poor user tech. support and backing out of a deal ("an ox is bound by its horns, a man is bound by his word" – Serbian proverb).

6. Security and stability
Describe a good day at system administrator's job using one word.
"Boring."
OK, describe it in one sentence.
"Boring, as it should be."

Chinese proverb
I love when I have no comments (complaints) regarding this. So far, security looks good.
Since I'm hosting some websites with MDDHosting, you can see the real-time uptime reports on my status page:
status.bikegremlin.com
In a few months, I'll know if automatic SSL/TLS certificate renewal works properly – and update this article.
Update, September 2022:
A friend's WordPress website got hacked. In addition to manual checking and cleaning (and recommending some plugin and hosting provider changes), I cloned my "manually cleaned" website copy to MDDHosting. Why? Because, unlike the friend's provider, MDDHosting offers Imunify360. I let Imunify 360 scan the site and it caught a few more places that were still infected (files with the "fishy" code injected). I had missed those. After this, the site has been up and running fine for well over a month now.

7. Technical support
Tech. support is organized using tickets (why tickets are better than phone support).
Live Chat is also available on Monday to Friday, from 8:00 to 12:30 ET, along with phone support for sales and billing.
For now, it all works fine, so there was no need for technical support to intervene in order to fix any problems. However, I did post some questions – and got the answers swiftly, with clear, idiot-friendly explanations.
Update, July 2022:
As I was asking for details about the resource and pricing policy, I casually mentioned (as a side note) this LiteSpeed Memcached object cache problem (link to the LiteSpeed wp.org support forum). Currently, this is not working with any reseller hosting provider whose servers I have access to – it's not MDDHosting specific.
Yes, LiteSpeed is still the best WordPress caching solution, but about once per year, they tend to make a hiccup with an update.
For troubleshooting, I usually create a test cPanel sub-account, with a test site that uses the same theme and plugins as my "real" website. People from MDDHosting were willing to take login info for the cPanel and WordPress accounts, and then go back and forth with the LiteSpeed support in order to solve the problem.
I have never seen a hosting provider's technical support go to such lengths! They usually just confirm if all the services on the server are working normally, leaving me to deal with the problem after that – I wrote about this "Catch 22" deadlock with any "3rd party software." MDDHosting is a rare exception to this, I highly appreciate it.
Update, August 2022:
I can freely say that this is the best technical support I've seen. Veerotech and Gnu Host are close, but if I had to pick a favourite, it's MDDHosting. I know this sounds like an advertisement. You won't believe it until you experience it – just as I didn't.

7.1. WordPress hosting support
I must write this:
Many hosting providers advertise and sell "WordPress hosting," or "Managed WordPress hosting." MDDHosting doesn't advertise that. However, their platform is very well optimized for running WordPress (and WooCommerce) websites. Also, even more importantly, the technical support is knowledgeable and willing to look into WordPress-related problems.
I've experienced that in a situation when the problem was obviously not hosting-server related. To me, this matters a lot. No Catch-22 deadlocks when plugins, themes, Cloudflare, LiteSpeed and other 3rd party stuff start causing problems. I wasn't left on my own to figure it out. Not once. At the cost of sounding cheesy: I really felt like MDDHosting cared if my websites work fine or not (don't know how else to explain it).
The bottom line is: MDDHosting could easily advertise their shared and reseller hosting as "WordPress / WooCommerce hosting." They would not be lying.

8. Performance
Before I start with stats and charts, to put it briefly:
Technical support, stability, and security are among the best I've seen, but the performance is OK. It's fair to note that, considering the price, service quality & performance – it's a great "bang for the buck." However, I'd be happy to pay three times the price if MDDHosting offered their Plaid shared hosting performance, in a reseller package (i.e. I'm happy to pay more for the top performance as well, but not everyone is willing or able). I don't plan to change this provider, because of the top-class service and security, while, as I said, the performance is OK (just not super).
Update – I've tested MDDHosting Plaid reseller hosting platform, which is a lot faster than the here-shown Turbo reseller hosting platform.
Now you can jump to chapter 9. 🙂
Here, I've explained my hosting (and website) performance testing methodology, and here are the results (compared with HostMantis):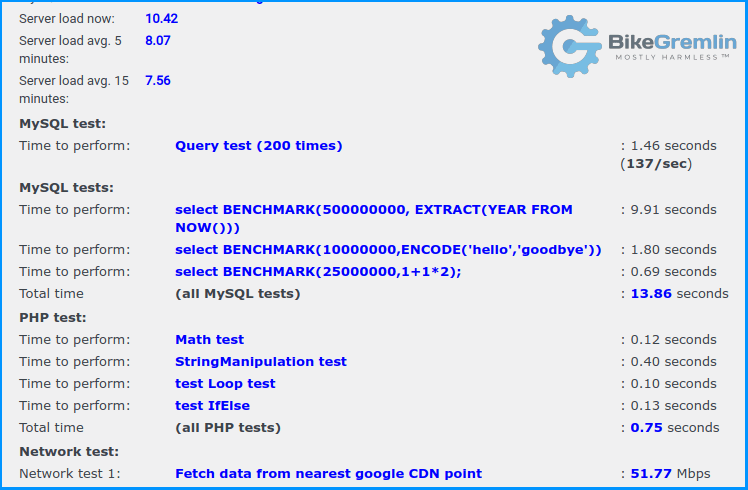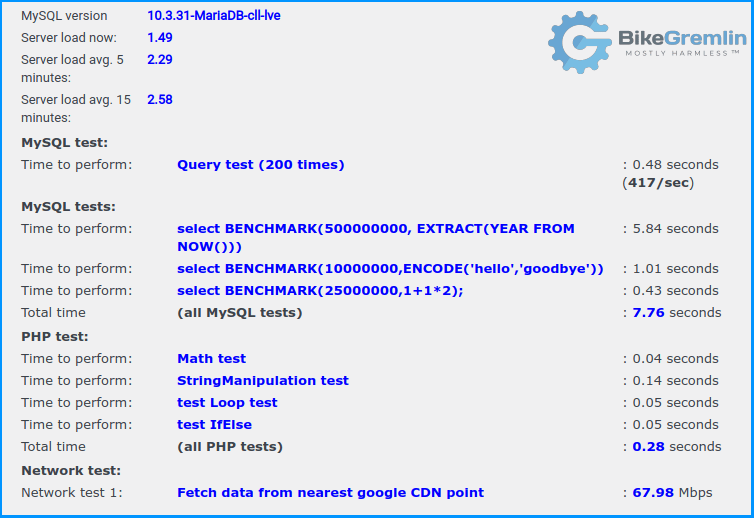 It is fair to note:
HostMantis is among the fastest hosting providers I've tried (only Brixly was just a tad faster but less stable).
This is still a quite decent result, far from what I'd call slow, or poor.

And these are the Octoperf load test results, with the following note:
MDDHosting's server is in Denver US, and the closest Octoperf's testing server is in Virginia US.
HostMantis' server is in London UK, just where an Octoperf's testing server is located.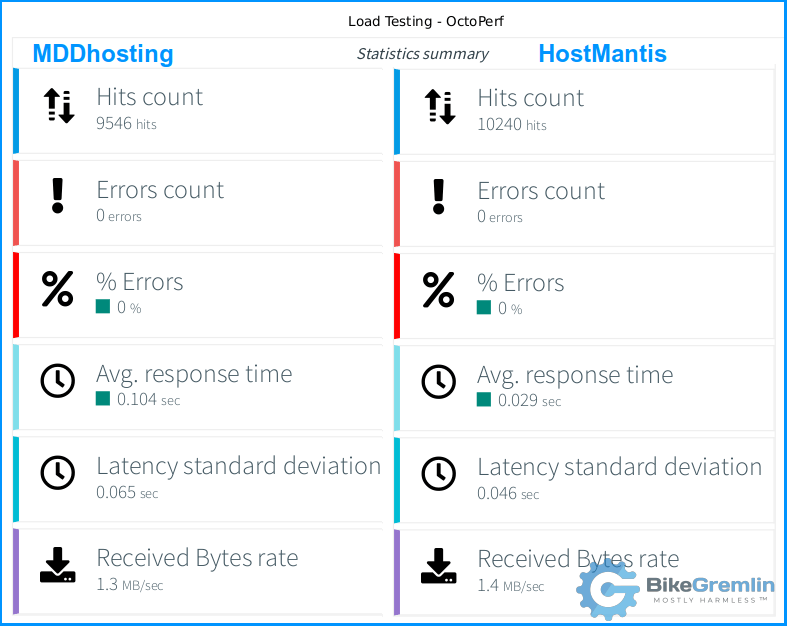 To make these tests more realistic and fairer, I repeated HostMantis load tests using Octoperf's test servers from Frankfurt Germany, and Virginia US.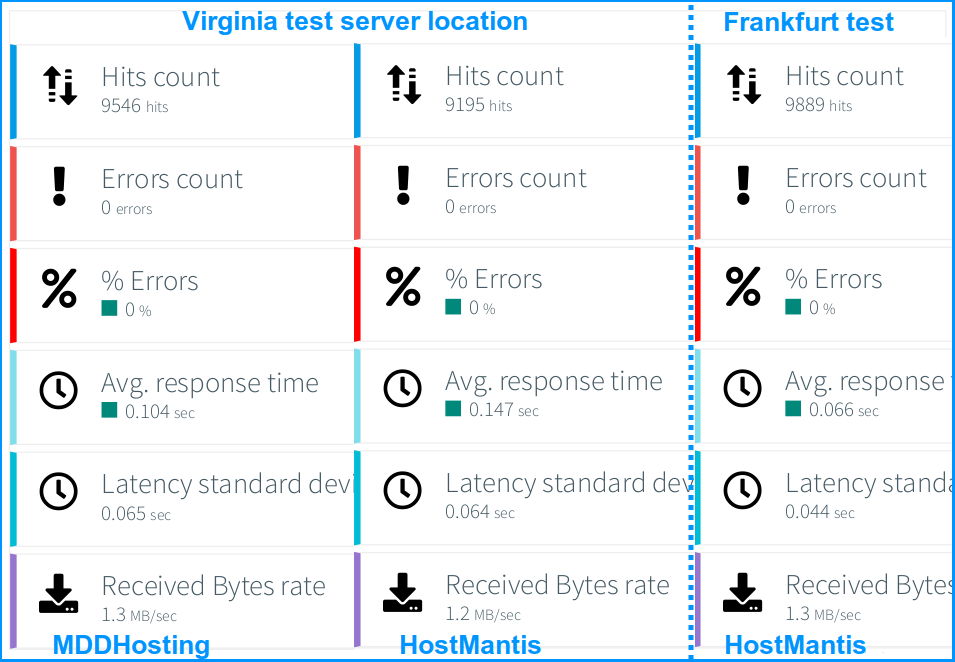 Stress test results show that both providers performed well, and that test-server location (distance) can affect response time by over 1 tenth of a second (0.1 s).
Both providers passed the stress test of 30 manic virtual users browsing pages like there's no tomorrow, without their browser caching enabled – without breaking a sweat. Resource load stats during the tests are practically identical for both MDDHosting and HostMantis, and here's what they look like:

I dared to repeat the stress test with 40, then 50 simulated users – something that brings most shared/reseller hosting accounts to crash so I don't even attempt it (I usually stop testing in case of problems with even 30 virtual users). MDDHosting passed the 50-users test with no problems whatsoever:

Of course, good website caching helps a lot with these kinds of loads, but still, very few providers can handle 50 "Octoperf visitors."
My subjective impression is that websites work nicely and their pages load quickly.

8.1. Bonus: MDDHosting Plaid shared hosting performance
As far as I know, MDDHosting offers even higher performance on their shared hosting platform, but I prefer reseller hosting for easier administration and keeping backups – plus reseller hosting ends up costing a lot less per one website. Still, I was curious to test MDDHosting's "Plaid" shared hosting package:
Noticeably faster than both HostMantis and Brixly! Octoperf load test results are slightly better than Elastic Reseller. I can say that MDDHosting is the fastest I've tested.
Plaid is now available in a reseller hosting package too – my MDDHosting Plaid reseller hosting review.

8.2. WP Benchmark tool test results
These are the test results made using the WP Benchmark tool plugin (wp.org link):
Note:
The poor "Object cache" result is due to a LiteSpeed problem explained in chapter 7. The problem is persistent with all the hosting providers whose servers I have access to at the moment.

8.3. Real-user performance analytics
What is the performance like for real website visitors? Here are the Cloudflare analytics stats for my cycling website in English:
As you can see, a very small difference, but HostMantis is slightly faster. The start of July is when I enabled Cloudflare Rocket Loader (in my Cloudflare free plan). With a note that the less-secure LiteSpeed Redis object caching was enabled with HostMantis, while the secure Memcached object caching is currently not working with any hosting provider (LiteSpeed will hopefully soon fix that).
I now plan to test Cloudflare WordPress APO and the Cloudflare Pro plan.
Update, December, 2022:
MDDHosting now provides for secure, isolated Redis (or Memcached) instances for their shared and reseller hosting customers. Neat. 🙂 Redis is nice for WordPress WooCommerce websites (and not too important for "ordinary" WordPress sites – at least in my opinion & experience).

9. Prices
Compared to other high-quality reseller hosting providers, the prices are affordable.
Compared to reseller hosting providers that offer flexible resource allocation, the prices are the lowest I could find (excluding some providers I wouldn't dare to host my sites with).
I guess that a hosting similar to this, but on a more powerful (and newer) hardware, would provide about 30% better performance at about two to three times higher price. I base this assumption on looking at other providers' offers and comparing the performance of providers whose services I've used (or am still using).
$10 per month for the basic, "Elastic 5" reseller hosting package.
MDDHosting
prices in $
per month
Elastic
5
Elastic
10
Elastic
15
cPanel accounts
(+ $0.2 for each additional)
10
20
30
Storage space
(+ $0.15 for each additional GB)
10 GB
20 GB
30 GB
Bandwidth
(+ $0.1 for each additional GB)
1 TB
2 TB
3 TB
vCPU
5
"cores"
10
"cores"
15
"cores"
RAM
5 GB
10 GB
15 GB
Base
monthly price
$10
$20
$30
MDDHosting Elastic Reseller prices
Table 1
Simple maths says it's cheaper to pay for any extra cPanel accounts or storage space than it is to go with a more expensive plan – unless you need more vCPU and/or RAM.
For reference: with HostMantis, I hosted over a dozen websites with 2.5 vCPU and 4 GB RAM, without reaching the limit even closely. All those websites used less than 10 GB of storage space, and less than 100 GB of bandwidth per month – more details in the article about WordPress hosting resource requirements.
Bandwidth is a different matter. Paying for 100 GB of "extra bandwidth costs the same as paying for a higher hosting tier that gives you 1,000 GB more bandwidth. Keep an eye on the bandwidth usage and, if you wish to avoid any unplanned high expenses, don't "oversell" the bandwidth (50 GB per month is more than enough for most small or medium-sized websites).
You can use the TRYELASTIC coupon code for a 25% discount for the first 3 months (affiliate link).

10. Problems
The difference between good and bad providers isn't whether there are problems. It is about how problems are solved, and whether they are a rare exception or a common occurrence.
So far, I've had zero problems, but here I'll note any I may face, along with their solutions.

11. Review conclusion – thoughts and recommendations
In my experience, it takes about a week to determine if a provider is really bad. And it takes about 6+ months to assess if they're really good.
A few years ago, I had a brief experience with MDDHosting. That was with a problematic website (fixed later) and an impatient client – so I don't think it was fair. Expert recommendations and my gut feeling were telling me to give them another chance. I just waited for the right time – and the sale of my "main" provider was just that. I had to "move" quickly.
So I took a leap of faith and moved my cycling website, which I know is well-optimized and works stably. I'll be following the metrics, and in a few months, I'll know with more certainty how good MDDHosting really is.
My only, conditionally speaking, "objection" is they don't offer the DirectAdmin control panel – only cPanel. DirectAdmin allows easy website migration and has a better pricing policy (cPanel price hikes).
On the other hand, if a provider is good and stable, I won't be migrating websites every month, but will concentrate on writing more articles. 🙂 Likewise, I've seen too many providers switch from cPanel to DirectAdmin just because of the lower prices, without knowledge and experience of how to configure and use it – to their users' detriment.
I'd describe MDDHosting as the Mercedes of the hosting industry. It's not the fastest, but it isn't slow – yet it's "comfortable" to use and reliable.
If all remains well, in about six months, I'll slowly start moving client websites to MDDHosting.
After problems with MyW hosting's US server, I moved all the BikeGremlin sites and sites of all my paying clients to MDDHosting.
Update, August 2022:
I am delighted with this provider. Top-class service and support that makes me feel "at home," like my sites are in good hands, and not like I'm a "customer No 3923." I'd say that MDDHosting is a stable, reliable, competent, and trustworthy provider, great to do business with. Some people take great pride and put a lot of effort into being top-class in their job. MDDHosting team falls into that category.
Should you decide to try MDDHosting thanks to this review (or in spite of it 🙂 ), you can use my MDDHosting affiliate link, and thus support my work.
You can use the TRYELASTIC coupon code for a 25% discount for the first 3 months.

12. Addition – resource usage tracking
I love reseller hosting with limits set on a per-whole-account level (I explained the details in chapter 3 of my HostMantis hosting review). By looking at the total resource usage stats, I can easily see any surges. When I notice any, I can investigate further to see which website is causing problems and why it needs much more resources.
Here's how to keep an eye on the bandwidth usage:
As I've explained in the chapter about prices, exceeding bandwidth is costly, so I've limited it, and I don't oversell it.
Total CPU and RAM resource usage (load) can be seen this way:
I can also configure resource limits per a sub-account and set email notifications in case the limits are reached. Chapter 6 of my HostMantis review explains how these limits are configured in WHM. And here's how to configure the notifications (I don't re-sell hosting, so I set no alarms for "clients," only for the "reseller," i.e. me 🙂 ):
For example, I've had WordPress plugin collisions (on staging websites) cause a huge CPU load. I like being able to catch such problems as soon as possible.
You can track the storage usage from the main user control panel:
MDDHosting Plaid reseller hosting platform shows the allocated ("sold") resources, along with the actually used: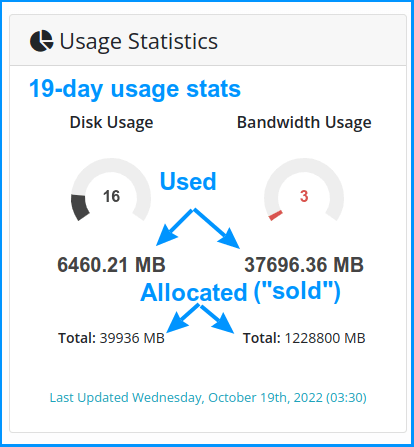 Should you decide to try MDDHosting thanks to this review (or in spite of it 🙂 ), you can use my MDDHosting affiliate link, and thus support my work.
You can use the TRYELASTIC coupon code for a 25% discount for the first 3 months.

13. Addition 2 – emails
I already wrote about the pros and cons of using a hosted email service. I personally prefer, use & recommend the MXroute email service.
However, for saving costs, and simplicity, many people like using their hosting provider's email service, and that's why I'm providing this info:
MDDHosting's server IPs are clean, i.e. not on any black lists (for checking and tracking this I use HetrixTools – affiliate link). They have a smart, advanced email filter/scanner, to help prevent any spam coming in or going out.
In practice, this means your emails will get delivered, i.e. they won't end up in a spam box or be outright blocked by a spam filter (just make sure to properly configure your email-related DNS records). This also means MDDHosting doesn't tolerate any customers sending spam from their servers – which is good (MDDHosting email policy).
Outgoing email limit is 500 emails per hour – very generous (a common/usual limit is 300).