After having written the most comprehensive monitor buying guide in the known universe, 🙂 it is time I share my experience (like a review) with the Dell UltraSharp U2722D monitor (Amazon affiliate link).

Table Of Contents (T.O.C.):

1. Is this a good monitor?
To get right to the point – we can later discuss the technical specifications and other details:
Dell UltraSharp U2722D monitor is very good for writing and reading, regardless of whether you are coding, or writing articles for the web, or for work.
For editing photos and FHD videos, it is good, but there are better (and a lot more expensive) options for the people whose primary line of work is based on this.
When it comes to gaming, it's definitely not a brilliant choice for fast, action games (FPS, driving simulations, etc.). Strategy and third-person FRP games look nice and I haven't got big complaints there.

2. The Good
Very clear, sharp image, without flicker, or blue light shining through to strain the eyes. You can sit and write for hours with this monitor, day after day.
Build quality looks solid – and elegant.
It has all the imaginable adjustments – height, vertical and horizontal angle, screen rotation to the portrait orientation (by 90 degrees both clockwise, and anti-clockwise).
The base is strong and stable, as well as the pillar, which is hollow with holes at the back and front for easier cable management. People who like having a neat desk will appreciate it.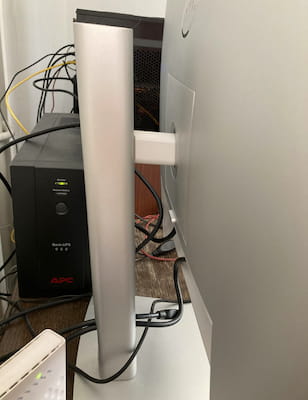 3. The bad
60 Hz screen refresh rate and 8 ms response time aren't ideal for action gaming (FPS and the likes).
Brightness could be better for professional photo editing.
Apple computers can't display images on this monitor using a USB-C connector (that comes with the monitor). For that, you need to add about $200 for a more expensive model U2722DE (Amazon affiliate link). That extra "E" at the end also brings you an Ethernet connection port, and it makes the audio connection port support headphones as well (U2722D audio port works only as an amplifier/active speakers connection). Another uber-cool feature of the "E" model is it can operate as a KVM switch – letting you connect two computers and control them both using the same monitor, keyboard and mouse, displaying each computer's video on half the screen (PBP), or having one's input take the largest part of the screen (PiP) with the other being reduced to a small window (switching them per your preference).

4. Technical specifications and connectivity
Tech. specs:
27″ diagonal (size).
QHD (2560 x 1440) resolution with a 16:9 aspect ratio.
108.78 PPI (pixels per inch).
178/178 degrees (horizontally/vertically) viewing angles.
Colour fidelity – 100% sRGB color gamut, 100% Rec 709 color gamut, 95% DCI-P3, 10-bit colour palette.
60 Hz – screen refresh rate
8 ms GtG response time.
350 cd/m² brightness (I think they're lying, 320-ish would be more realistic, but I could be wrong).
1000:1 contrast (again, it is my personal, subjective impression that this is a bit optimistic figure).
Anti-glare coating, and scratch-resistance hardness of 3H.
-5/21° vertical angle adjustment, +-45° left-right rotation, and +-90° pivot.

Connectivity: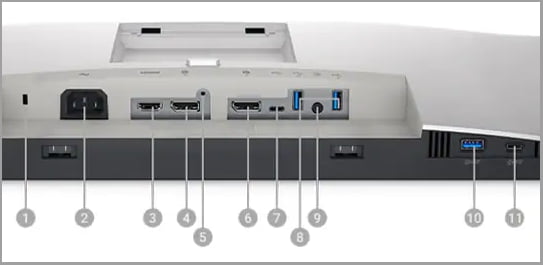 It comes with two cables: DisplayPort 1.4 (DP-DP), 1.8 m long, and USB-A to USB-C Gen 2, 1 m long. No HDMI cable.

Physical dimensions (will it fit your desk):
With the stand – width 61 cm; depth: 19 cm; height 39 cm (to 54 cm, there's a 15 cm height adjustment range).

5. My Dell UltraSharp U2722D monitor experience
The monitor comes with an anti-glare coating, but if you have a big window behind you with the sun shining brightly into the room, you will have noticeable reflection when working with material that is mostly dark (black letters on a white background are not a problem), even if the sun isn't shining directly onto the screen.
Factory colour calibration is not bad. Now, I'm not a professional photographer, but my friend Marija happens to be one (top-class fashion photographer in fact – her website). Compared to her Retina display, U2722D is lacking, both in terms of sharpness, and colour fidelity. Lacking brightness can also be noticed. It's far from bad, but probably not ideal for professional photographers (unless you're on a tight budget and won't pay a 4-figure amount of $ for a monitor).
What matters most to me and what I loved – clear text and image that doesn't strain the eyes. Not even after a dozen hours of work. This is especially noticeable when it's dark.
I used to cope with bright backlight by using f.lux (link to their website). F.lux does help, but it makes the whole screen look yellowish and darker. That's far from perfect when I'm editing a picture for a website – I can't tell what colour it really is.
Dell U2722D doesn't distort colours, while putting a lot less strain on the eyes. The screen is pleasant to look at both in a well-lit room, and in dim-light conditions.
QHD resolution to physical screen size ratio is perfect in my opinion. Letters aren't too small, nor too large and jagged-looking. This monitor offers a lot larger working area compared to FHD monitors, so I can work on two article versions in parallel (my native, and English), which is a lot faster than constantly switching tabs and windows.
Black "colour" looks decently, without backlight shining through – I expected a lot worse from an IPS panel.
For what I need, a Dell P series monitor would probably have done the job (chapter 7. gives a list of Dell monitor series classes). However, local prices and model availability were such that I could only find an older P-class model for just about $10 less – which made no sense.
Also, after having used this monitor for almost two months, I don't think I'd risk even for a few hundreds of dollars less – I've got a good, reliable workhorse that will hopefully serve me well over the next 5+ years.

6. Cheaper alternatives
"Dude, our moonshine is better than the original whiskey!" 🙂
When buying, I usually look for "the cheapest that's good" (i.e. that satisfies the needs & the criteria). Likewise, when writing reviews, I avoid mentioning any poor quality products, preferring to just praise those worth talking about. Finally, to conclude this disclaimer, this is only my opinion, based on what I could find, see and try.
There are monitors that don't show any picture until the operating system starts to boot. No BIOS, no boot-menu (if you have a dual-boot system, you better know by heart the order of your installations). Fascinating! I suppose this is not a problem for most "normal" people, but for me that's a good reason for avoiding such monitors.
Flimsy stands can also be found on some low-priced models.
Too "optimistic" specifications – that look good on paper, but picture quality doesn't show it.
Catches and gotchas – like an 8-bit palette being "sold" as a 10-bit one. That's my favourite. 🙂
They advertise a monitor that has a 16.7 million colour palette, as a monitor that can show 1.07 billion colours. They do that using a trick called FRC (Frame Rate Control), "making" a monitor with 8-bit palette per channel to "look" like one with a 10-bit palette.
"We can't show a colour tone? OK, we'll quickly keep switching two "adjacent" tones that we can, so it will appear as that tone. Yes, there will be a bit of flickering, but our prices are great!"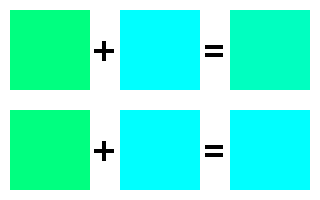 7. Apendix – Dell monitor classes and designations
Here's the Dell monitor naming convention: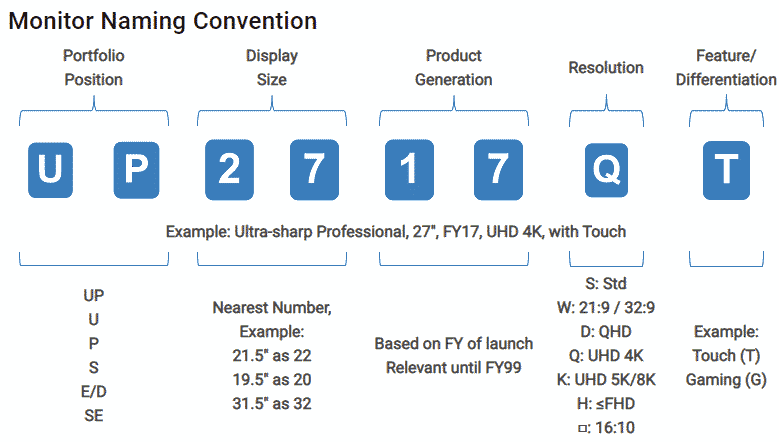 The first letter (or two letters) is the most important, because it designates the quality class:
– All the comments are my personal opinion, based on my knowledge, education and experience
UP – UltraSharp PremierColour, the best Dell has to offer.
U – UltraSharp, monitors with high colour fidelity and high image quality.
An example is the here-described U2722D
P – Professional, decent quality monitors, but with less perfect colour fidelity.
AW – Alienware, Dell's attempt at making gaming monitors. They aren't bad, but I think there aere better options for the money. I believe the girls & boys from the marketing department got nice bonuses for coming up with such an inventive name for the series. 🙂
C – Commercial displays, huge monitors for conference halls and similar, with diagonals of over 50″, and less huge portable monitors.
S – Home & Small office, you pay more than for a similar model of some "smaller" brand because it's a Dell, but you get rubbish.
E – Entry, worse than the S series.
SE – Consumer, as if Dell says: "If your religious beliefs forbid you from buying a BenQ monitor, we'll take your money, fine, if you insist."
If this article has helped you, you can use my Amazon affiliate link for shopping (and support my work by doing so).
Before buying, check out the chapter CAUTION when shopping in my monitor buying guide.