In this post I'll write about website and hosting server problems I've encountered over the years – and about (determined) problem causes and solutions. It is planned as a series of "problem – solution". Will be updated in the following years. Want to keep it all in one place, relatively easy to search. Where it is not of crucial importance, I won't be noting particular websites, nor hosting providers, or server types – in order to keep the info as brief and easy to navigate as possible.
For problem-solution formating I'll be using "FAQ" block type, enabled by Yoast SEO plugin. Unlike WordPress itself, Yoast's FAQ creates chema.org compatible blocks (more on this I wrote in the post about WordPress 5 and Gutenberg block editor). Without further ado, let us begin:

1. Golden rule
Always, always check everything on your side.
Is your Internet connection working (for other websites)?
Does your computer have any viruses, or other problems?
Have you paid all the bills?
Then check the hosting provider's server/network status: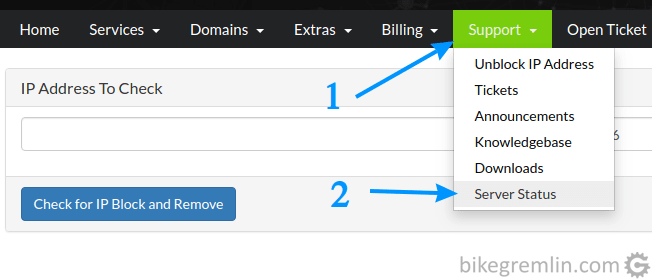 I wrote about this in more detail in the post about technical support.
Only after this is checked, proceed with the other instructions, depending on the problem you are facing, as explained below.


PROBLEM 1
When trying to open a website page, I get:
"403 Forbidden
Access to this resource on the server is denied!"
First thing to check is whether your IP was blocked by hosting provider's WAF (Web Access Firewall).
This can easily be checked by using a VPN to connect using another IP address (TOR browser can also be used), or using a smartphone and the Internet connection of your mobile network provider (not using your home/work Wi-fi, since then you are likely to get the same IP address as for the computer).
If all works normally then, it means you should unblock your IP address from hosting provider's control panel. When you log into the control panel and choose the menu similar to the one in the picture below, your IP is usually automatically detected and added. If that's not the case, use whatismyip.com.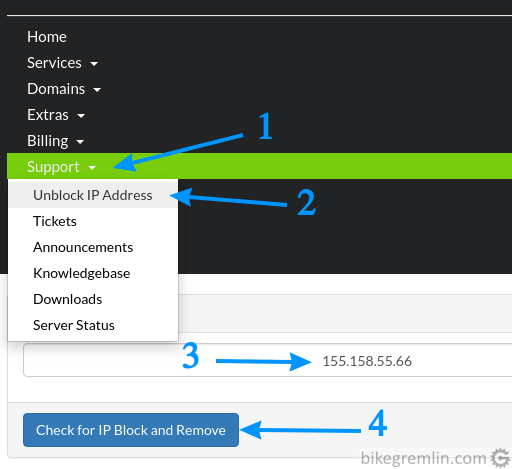 What if connection using another IP is not working too? The following picture gives instructions for the first step: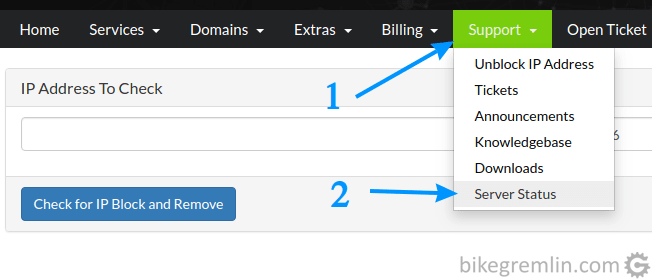 If your server/network is not on the list, then you must contact the hosting provider's technical support. When posting a ticket, let them know that you've checked the network/server status and have tried using (at least) two different IP addresses to connect, but you still get the same problem.
In this case it's most probably a problem with the server's WAF (ModSecurity rules), but could also be something else – they should figure it out.

PROBLEM 2
I have several domains (websites) and emails from one of them don't reach the others
Once a domain is set up on one hosting server, emails sent to it from other domains on the same server will be sent locally (on the same server). Even if you migrate one domain off the server, to another hosting provider, all the emails sent from other domains (websites) on the same (old) server will be delivered only locally.
Even if you delete the domain and/or inbox for a particular email, it could happen that emails sent to it get bounced after attempting to deliver them locally.
For example: bikegremlin.com and io.bikegremlin.com are hosted on server A.
I migrate bikegremlin.com to server B.
Mails sent from [email protected] to [email protected] will not be delivered where they should (they get delivered to server A, while if I delete bikegremlin.com from server A, I get a bounced email error report).
Solution: before migration, set emails to external email service (do this anyway if you are using an external email service, even if you are not migrating the website). Follow the instructions for external email service setup.